Planning your exterior color palette involves finding harmony among your siding, roof and trim colors. Whether you're planning on replacing them all at once or one at a time, you need to plan thoughtfully to get the best results. After all, your home's curb appeal depends on it. As your leading roofing and vinyl siding company, let Homecraft® Inc. share with you some of the things you should keep in mind when choosing your exterior colors.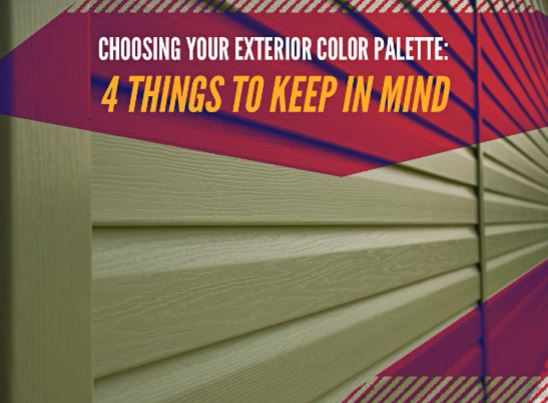 Check Your Neighborhood
On your next run or afternoon walk, make it a point to check out the color combinations of your neighbors' homes. Certain areas have a range of colors that could be muted or bright. This is especially useful if you want your home to stand out – just not like a sore thumb.
Note the Existing and Permanent Parts
You should also take stock of the parts that you won't be replacing soon, such as recently replaced siding, roofing or entry doors. Take their colors into account when choosing the hues for your planned home improvement and make sure they work together. This is especially true with permanent components like brick or stone siding; they will likely outlast any roof that you install.
Research Your Home's Architectural Style
Certain architectural styles have distinct color palettes, so taking the time to research your home's architectural style is important, especially if you're after an authentic look. The choices may sound limiting, but many homeowners find having specific color palettes to choose from very convenient. Examples include the warm colors associated with Spanish and Mediterranean architecture, the all-white siding and trim combination of Colonial architecture and the dark earth tones that Craftsman architecture is known for.
Colors Change Depending on the Time of Day
Don't just base your selections on color swatches. Ask for actual samples of the material, or at least paint small parts of your exterior with the colors you favor, and view them during the day as well as at night, so you know how the colors look — and if you still like them — at all hours.
At Homecraft Inc., we have expert consultants who can help you find the perfect color palette and choose the right roofing, siding and entry doors for your home. Call us today at (877) 494-0377 or fill out our contact form to schedule your free, in-home consultation. We serve many areas in and near Newark, Wilmington and Middletown, DE.