When you're shopping around for replacement windows, knowing the different parts can help you make sense of the myriad options available. It also gives you the confidence to choose the exact types of windows your home needs. Here's our overview of the parts that you will find in just about every window.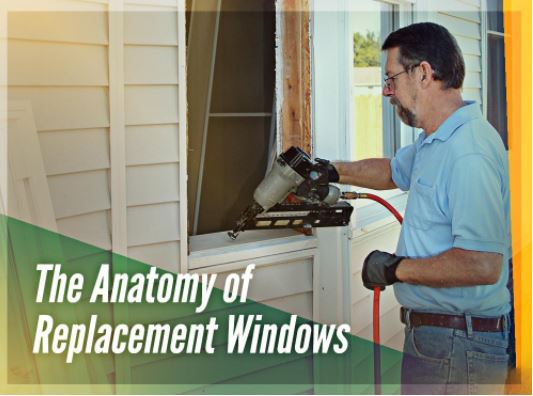 Glazing
The glazing, which is essentially all the glass parts, takes up the biggest area of any window. Today's replacement windows often feature dual-panel glazing, a standard feature of all our replacement window options. Dual-panel glazing is made of two panels of glass, spaced using non-conductive spacers. Eliminating contact between interior and exterior surfaces dramatically reduces conduction that would otherwise result in heat loss. It may also have low-emissivity (Low E) coatings that block unwanted UV and infrared rays from sunlight.
Sashes
The glazing is attached to sashes, i.e. the parts of the window that can be opened and closed. Sashes slide on tracks – vertically, as in double-hung windows, or horizontally, as in sliding windows – or attached to the frame on hinges, as in casement windows. Traditional sashes divide the glazing with grid-like pieces called grilles or muntins, but with dual-panel glazing, grilles are typically decorative pieces that can be removed as needed. Fixed windows such as picture windows do not have sashes, with the glazing installed directly onto the frame. Certain window styles, like the wood and vinyl window options we offer, also have sashes that can be tilted inwards for easy cleaning.
Frames
The entire window assembly is attached to a frame. The vertical parts of the frame are called jamb; the horizontal bottom part is called the sill; while the horizontal top part is called the head. The frame material is important, as it should be able to carry the weight of the entire window, as well as have insulative properties to prevent heat loss. The frame may also have mechanisms built within, like counterweights for double-hung windows, rollers on sliding windows, or hand cranks on casement windows. Our Homecraft and ProVia® replacement windows feature insulated cores, while our Andersen® frames are made of a solid wood core.
The quality of installation is important, as the frame has to be leveled and shimmed before being attached with screws. The gaps between the frame and wall opening are filled in with insulation, and later covered with either the same material as the frame or as the trim used on the exterior.
To learn more about our vinyl and wood window installation options, call Homecraft® Inc. today at (877) 494-0377. You may also fill out our contact form to schedule your free in-home consultation. We serve many areas in and near Wilmington and Bear, DE.