Due to their classic appeal, bay and bow windows are suited for almost any traditional American home, including Victorian, Ranch, Colonial, Cape Cod and Tudor. Many homeowners love their unique, protruding style, as this lends their home architectural interest. With their beautiful structure, curves and old-world charm, they have the ability to boost and completely transform your curb appeal.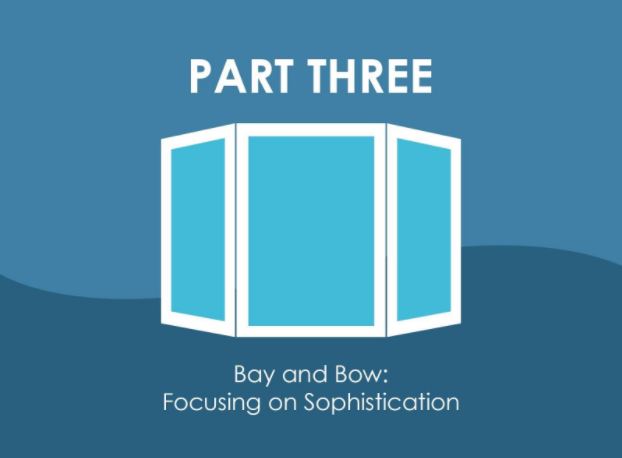 Features and Benefits of Bay and Bow Windows
These window styles are often associated with grand architectural designs due to their gorgeous aesthetics. Bay windows are composed of one large window with two smaller windows on each side, forming a protruding bay. Bow windows, on the other hand, are a combination of equally sized windows that form a bow-saped bay. When used together, they are among the most versatile choices for the following benefits:
Additional Storage Space –

Since bay and bow windows extend from the surface of your exterior wall, they create an additional space inside. This helps expand the room. Many homeowners convert this space into a built-in or hidden storage for books, toys and other items.
Functional Transformations –

Apart from transforming the space into an area for storage, you can also use this extra space for built-in seating, a reading nook or as a dining banquette, among other possibilities. Simply add cushions and pillows to the area, and you can lounge the day away.
Panoramic Views –

When it comes to framing beautiful outdoor views, most people think about picture windows. However, a well-positioned bay and bow window setup with minimal grilles can also offer panoramic views.

Plenty of Natural Light and Air –

If your room demands plenty of natural light and ventilation, bay and bow windows are a good choice. Their grand panes can let your spaces bathe in sunlight. And because they are operable, they can let in cool breezes every now and then to improve your home's comfort.
Now that you have an idea of what types of windows will work best with traditional homes, be sure to consult a trusted expert to find the precise styles you're looking for. The key to picking the right windows is not considering aesthetics alone but rather paying equal attention to the durability of materials and the overall energy efficiency of the units. Of course, do hire an experienced installer to replace your old windows, as poor installation can easily derail your remodeling goals.