A home improvement, no matter how simple it may be in your mind, could go wrong and lead to costly consequences. If you're planning to start one, avoid committing these terrible mistakes: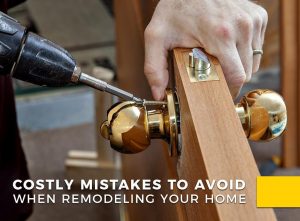 Assuming All Home Projects Are The Same
Most homeowners perceive remodels based on the last project they did without realizing each one has its own pitfalls and challenges. You may have had a successful DIY project last time you fixed your broken pipes, but it doesn't necessarily make you an expert in re-siding. Any experienced vinyl siding company, like Homecraft, would always emphasize on hiring pros to ensure quality.
You should never hire friends and relatives just to skimp on labor, especially when they're inexperienced. Skipping professional service could lead to workmanship errors, wasting your time and money.
Expecting You Won't Go Over Budget
Even a well-planned home improvement project could require change orders along the way. These modifications could increase your expenses, which is why you must prepare for contingencies early on. A simple installation of doors might reveal damaged portions of the siding as well.
To stay away from unpleasant surprises, find out what concerns your contractor about your project beforehand. This way, you could anticipate hidden structural challenges and budget for them accordingly.
Forgoing Building Permits
Applying for the necessary building permits is essential to bring your home up to code. They would cost you a little extra, but they allow third-party evaluation to guarantee proper work. If you choose to overlook such regulations, you may get fined when the authorities find out down the road.
Thinking a Weekend Remodel Only Takes a Weekend
Many factors could affect the timeline of home improvements. Replacing entry doors and windows might generally take a day or two, but inclement weather could stall the project. It pays to work with an experienced contractor to cover all the bases and ensure everything goes as planned.
Let Homecraft help you plan your home improvement project in Middletown, Newark, or Wilmington, DE. With over 35 years of experience, you can rest assured that we know what it takes to carry out the job. Call us today at (302) 798-0302 to schedule your FREE, in-home consultation and estimate.