Gutters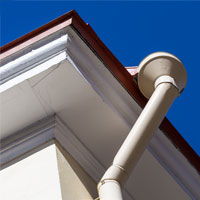 Your gutter system is one of the key components of your home's protection against the elements that make up our weather pattern. Water that leaks into your home can cause serious, expensive structural damage. A properly designed and installed gutter system from Homecraft® Inc. allows water to flow off your roof and be directed away from your home, preserving its integrity from the rafters to the foundation.
Homecraft® Inc.'s expert Delaware gutter contractors can design and install a gutter system that is custom-fit for your home. Our gutters are properly sized and configured to direct the flow of water safely away from your home. This includes durable, Mastic seamless gutter troughs that are securely fastened to your home, along with wide downspouts that accommodate the heaviest flow all year long.
The high-tech aluminum Mastic alloy we use in our gutters is stronger and more rigid than the competitions best metal, resulting in an exceptionally durable, smooth surface. This finish holds its color and resists the toughest corrosive elements, even UV radiation and polluted air.
Count on Homecraft® Inc. for durable, reliable rain gutters in Delaware!