Westville, New Jersey
Roofing, Siding & Replacement Windows in Westville, NJ
The Homecraft® Inc. team is proud to offer a variety of home improvement services to make your house great. We are well known in the area for our hard work, dedication and quality craftsmanship. Our prices are affordable, so you know your project can fit into any budget. We offer the following services:
Homecraft® Inc. also services Delaware, Maryland, New Jersey, and Pennsylvania, particularly Westville NJ, a borough in Gloucester County home to 4,200. Your community is known as "The Gateway to South Jersey" – a distinction no doubt homeowners like you are proud of. We can boost the value of your home through the following services: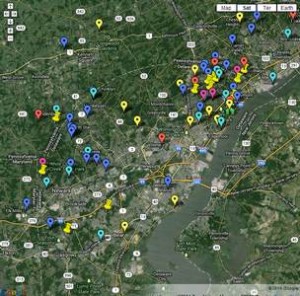 Window Replacement in Westville NJ
Our energy-efficient replacement windows will immediately transform your Westville NJ home. We have the widest selection and highest quality when it comes to Homecraft® Inc. vinyl replacement windows or Andersen® wood replacement windows.
New Doors in Westville NJ
It's obvious why we're the leading door company in Westville! Let new doors warmly welcome your family and visitors. Let our techs install a weather-resistant storm door to protect your home or replace your old garage door with a beautiful new automatic door.
New Siding in Westville NJ
In need of new cedar shake siding or vinyl siding in Westville NJ? Let our siding experts transform the look and feel of your home, with no need to ever paint or provide much maintenance again. With our siding, your home is insulated and more energy efficient with services and products by Homecraft® Inc. We offer you the traditional look of cedar shake siding or the maintenance-free option of sleek vinyl siding.
Roofing in Westville NJ
Do you crave industry-leading "Golden Pledge™" warranty protection? Why not sleep better under a Homecraft® Inc. roof? Installing cheap materials or hiring sub-par contractors for your roofing system is never wise. Instead, you should rely on Homecraft® Inc. for roof repairs and new roofing in Westville NJ.
Gutters in Westville NJ
You can rest easy knowing we can install the best gutter systems available for your home, paired with a well-built roof that is more efficient. Westville homeowners can count on Homecraft® Inc. for their gutter systems today and in the future.
Home Improvement in Westville NJ
To make the most of your home, lean on our team to make any improvement, repair, or renovation you need. Thanks to the fact that we are continually trained in the best products, materials and installation techniques, your satisfaction is 100% guaranteed.
Areas we serve
Recent Jobs in Westville, NJ
API token or Client ID is invalid.