Swarthmore, Pensylvania
Is it Time for Home Improvement in Swarthmore PA?
Whether your next project includes siding, window replacement, doors, gutters or roofing, rely on the experts here at Homecraft® Inc. From repairs to renovations in Swarthmore PA, we install the best products by leading manufacturers so your home improvements last. Our dependable, skilled and friendly contractors give you personalized attention like you're our only customer!
Homecraft® Inc., your #1 company for home improvement services, in Swarthmore PA which is a borough in Delaware County originally named "Westdale" after painter Benjamin West. Speaking of painting, why not side your home instead? You'll save thousands of dollars and hundreds of hours of work over the next several years!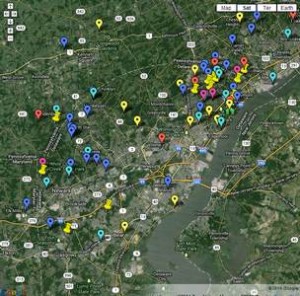 Window Replacement in Swarthmore PA
Opt for our replacement windows thanks to the widest selection and best quality possible. You receive two choices with our windows: our own Homecraft® Inc. vinyl replacement windows or Andersen® wood replacement windows. Whichever you choose, you will enjoy excellent performance, guaranteed energy savings, and reliable service that lasts.
New Doors in Swarthmore PA
Entry doors provide a warm welcome for your guests, plus they boost your overall energy efficiency. From front doors and patio doors to garage doors and weather-resistant storm doors, we are your #1 source for new doors.
Roofing in Swarthmore PA
Offering you high quality roofing systems, backed by the industry-leading "Golden Pledge™" warranty protection, will allow you to rest easy under a Homecraft® Inc. roof. Our contractors are highly trained in the best installation techniques and materials, meaning your roof will last for decades to come. There's no doubt about it: you should rely on Homecraft® Inc. for roof repairs and new roofing in Swarthmore PA! In fact, we are GAF Master Elite® roofing contractors, installing roofs built to last.
Vinyl Siding in Swarthmore PA
Our vinyl siding in Swarthmore PA will stand the elements and the test of time. Homecraft® Inc. allows you choose from a variety of styles, textures and colors to match your unique personality, home style, and budget.
Gutters in Swarthmore PA
Gutters from Homecraft® Inc. will keep your home safe from water damage. We know you have come to rely on Homecraft® Inc. for gutter systems that are built to last. Any good roof must be accompanied by well-designed and properly installed gutters in order to do its job, efficiently managing the flow of water off your roof and away from your home.
Home Improvement in Swarthmore PA
Turn to us to replace worn parts, repair damage, and make smart home improvements on your Swarthmore PA home. We are here to offer you ideas, designs, and top quality installation of all your home improvements.
Areas we serve
Recent Jobs in Swarthmore, PA