ProVia® Vinyl Windows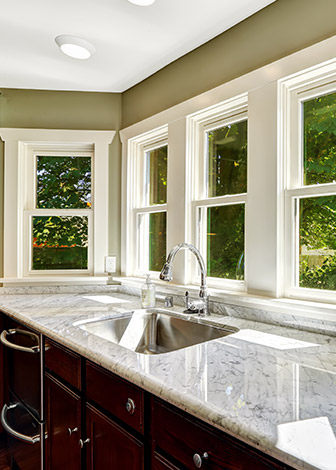 If your home is 10 years old or older, or if you still have your original single pane windows, you should consider upgrading to energy-efficient ProVia vinyl replacement windows. Ask yourself these questions about your home:
Is your home too cold in the winter?
Is it too hot in the summer?
Are your monthly energy bills getting bigger?
Do you feel a chill every time you walk past a window?
Does the glass in your windows fog up, ice over or rattle in the wind?
Do your curtains billow and blow, even when your windows are closed?
Are your windows difficult to open or close?
Do you still climb a stepladder to clean the outside of your windows?
If your answer to any of these questions is "YES," you should replace your home's windows with new, energy-efficient ProVia vinyl replacement windows. Our patented vinyl frame fabrication process allows compound shapes to be fusion welded at sill corners. In plain language, that means our windows are actually stronger than conventional welded windows!
Replacing your old windows with new windows from ProVia gives you an unbeatable blend of beauty, durability, convenience and energy-efficiency. Here's what you can enjoy with ProVia vinyl replacement windows Delaware:
Warmth – Superior thermal performance reduces heat transfer
Savings – Up to 30% home energy savings
Performance – Engineered to be the best, with low-E glass, insulated vinyl frame and custom fitting
Convenience – Easy tilt-in cleaning and virtually no maintenance
Beauty – High quality construction with wide choice of styles, finishes and colors
Durability –50- Year warranty, including glass breakage!
If the windows and doors in your home are not doing the job they were designed to do, its time to replace them with high efficiency ProVia vinyl replacement windows. Our windows feature:
Energy Star rated
Superior NFRC thermal performance ratings
Available in several interior and exterior finishes and textures
High efficiency, low emissitivity glass technology
Fusion welded sashes and frame for superior strength
Sashes to tilt for easy cleaning
Triple weather stripping on sashes and frames with long-life polypropylene pile for superb resistance to air, water, dust and noise
Deluxe half screen with heavy extruded aluminum frame and fiberglass screen mesh with memory
Fiberglass filled sashes and master frame for reduced heating and cooling costs
Guaranteed to perform for a lifetime
Whatever your taste in home style and decor, ProVia vinyl replacement windows make good sense. They are truly an investment in your home with their long-lasting quality and efficient performance. For convenience and energy savings now, and resale value later, call ProVia at (302) 798-0302 or schedule a FREE in-home consultation.