Make Smart Choices in Siding and Roofing in Clifton Heights PA
Homecraft® Inc. is the trusted home improvement provider of Clifton Heights offering roofing, siding, replacement windows and gutters. We put a focus on high-quality workmanship, materials and products constructed to last decades, plus we ensure you enjoy one-on-one attention built on three decades of experience. This all makes Homecraft® Inc. the top company among Clifton Heights PA homeowners.
Clifton Heights is one of our favorite places to work, located just eight miles from the hustle and bustle of Philadelphia. Nestled in Delaware County, this town is home to only about 7,000 people. Let us be the ones to transform the look, feel and function of your home.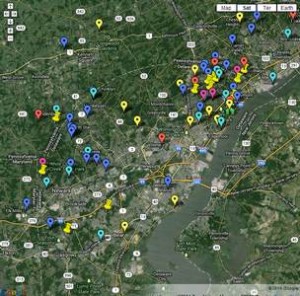 Window Replacement for your home
Our energy-efficient replacement windows increase the curb appeal and energy efficiency of Clifton Heights PA homes. Thanks to the widest selection and highest quality, Homecraft® vinyl replacement windows or Andersen® wood replacement windows are your top choice.
From strong weather-resistant storm doors to state-of-the-art automatic garage doors, we can help improve the function and appeal of your home. Count on our knowledge and skills to design a brand new entryway for you or even some smooth sliding doors for your patio.
Offering all kinds of siding for you to select from, our inventory includes anything from cedar shake to vinyl siding. No matter which one you go with, you get top quality at the most competitive prices. Come to Homecraft® Inc. in Clifton Heights PA for all the right colors, textures and styles of siding.
You get our exclusive Homecraft® Inc. guarantees due to the fact that our professionals deliver on promises of quality as GAF MasterElite™ roofing contractors. In fact, this is America's highest quality roofing system backed by "Golden Pledge™" warranty protection.
Shielding your home and property from damaging rain is vital, which is why you need a superior gutter system in Clifton Heights PA. You can count on Homecraft® Inc. for our built-to-last gutter systems that divert flow due to rain, snow, or melt-off from ice.
Your home, quite simply, reflects your lifestyle. We can implement any improvement, repair, or renovation you need because our experts are trained in the best products, materials and installation techniques for 100% satisfaction guaranteed on worn parts or damage repair.
Find out more about Clifton Heights
FREE Estimates on Clifton Heights Home Improvement, Windows, Doors, Siding or Roofing.
Call Homecraft®, Inc., today at 1-877-494-0377 to schedule a FREE in-home consultation and estimate for your Clifton Heights home improvement project, roofing, siding, replacement windows, doors, or gutters.
Areas we serve
Recent Jobs in Clifton Heights, PA