Last March, the Healthy Business Council of Ohio awarded ProVia®, an industry-leading door and window manufacturer, with a Silver Award for healthy worksite practices. This prestigious award was presented during the council's 15th annual Healthy Worksite awards ceremony recognizing employers who demonstrate a commitment to employee wellness through comprehensive worksite health promotion and wellness programs.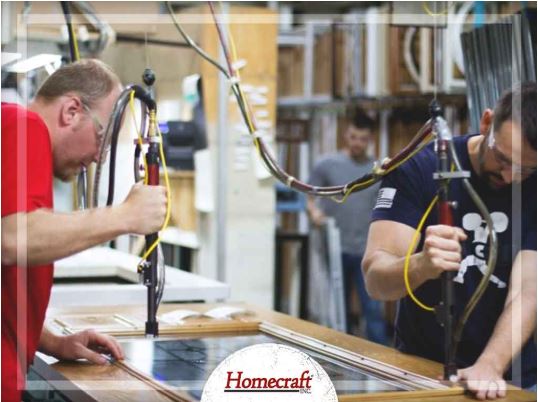 Homecraft® Inc. is proud to be a certified ProVia contractor, sharing these stellar commitments, not just to our employees, but also to the various communities that we serve. Whether it's a new window, door or roofing system, we make sure to enhance productivity and ensure healthy work environments at all times.
The Homecraft® Difference
Here at Homecraft®, It's not just about getting a paycheck. It's about our company's positive and productive culture. This then extends towards our approach to the work we do as we strive to fulfill our mission of being the leading residential remodeling contractor in the Tri-State region, while remaining true to our professional values of integrity, honesty and reliability.
We also serve as more than just trusted roofers or window replacement contractors to our customers. We also partner with them, sharing the process of transforming their homes from start to finish. Here's what you can expect when you work with us:
Highest Quality Products — From our ProVia® Aeris™ windows boasting energy efficiency, durability and unique elegance to our ProVia CedarMAX™ insulated vinyl siding, expect only top-of-the-line home improvement products for your needs.
Guarantees — Homecraft® is committed to absolute customer satisfaction, so in addition to manufacturer lifetime warranties on products and materials, we offer our own three-year workmanship guarantee.
Financing Options — We understand that certain issues, like immediate

roof repair

jobs, can arise at any time so we offer attractive financing options that allow qualified homeowners to more easily manage paying for their home improvement projects.
Our commitment to healthy worksite practices and customer service is at the core of everything we do here at Homecraft®. Call us today at 1-877-494-0377 to get started on your home improvement project with a FREE consultation. We serve clients in Newark, Middletown and Bear, DE.