The damaged Dover Free Public Library in Dover, NJ, may soon have a new lease in life. Town Administrator William Close said in an interview with The Daily Record that a roofer can be hired for a repair job within days and the entire project itself, which includes insulation and rewiring, will be finished after six weeks at the latest. The library was closed down after a storm slammed into the area on July 7, 2013, and left a hole on the roof 30 feet long by 50 feet wide.
Although Dover is situated deep in New Jersey, homes in Wilmington, Delaware are just as vulnerable to the same woes that befell the Dover Free Public Library. The city has moderate precipitation all year long, capped with deeply cool winters, humid summers, and snowstorms of differing ferocity – all despite being located near the mouth of the Delaware River and the Atlantic coast in general. The damage to the library can make specialists at roofing in Wilmington, DE, such as Homecraft Inc., take notice when they are tasked with emergency repair work.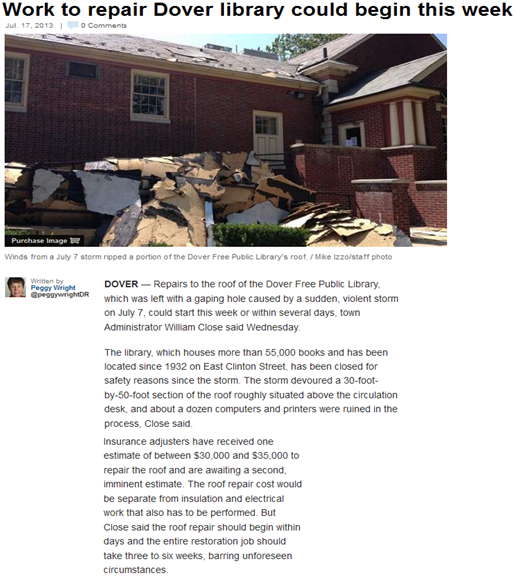 It is a given that homeowners and building operators, whose properties were ravaged by storms, must wait until the storm has passed before coming out to look at the damage. They could either assess it themselves or seek assistance from a reputable contractor; if the latter option is pursued, inspectors can be on the scene to properly itemize any issues and patch it up before more thorough work can be performed. In the Dover Free Public Library's case, reports stated that the roofing that covered the gap was sheared to one side of the building, with some water damage reported in the periodicals section.
Any occupied structure will have an insurance policy in place that the owner can use to finance the repair assignment and sync it with the estimated quote. For the Library's roof repair job, the Record reported that insurance adjusters were given one estimate of between $30,000 to $55,000 while another estimate was being drawn up; quotes for the insulation and the rewiring were not available at press time.
The library has been standing since 1902. Library director Mary Romance said the roof repair is the main priority at the moment. A roofing contractor tasked with a repair job can come in, do the necessary work, and wrap up everything as soon as possible – something the official was optimistic about.
There are houses in Delaware that may be just as big as the Dover Free Public Library and gashes of the same size will leave the occupants in great peril. Therefore, it is imperative that a Newark DE roofing company that places premiums on quality service like Homecraft Inc. be enlisted for the repair job right away.