At Homecraft® Inc, we take pride in being a GAF Master Elite™ contractor. Only the top 3% of roofers in North America have this distinction, which is why you can rely on us to carry your roofing project to perfection. Working with us also gives you access to the brand's quality products, including the Lifetime Roofing System. Here's a closer look at its features and benefits: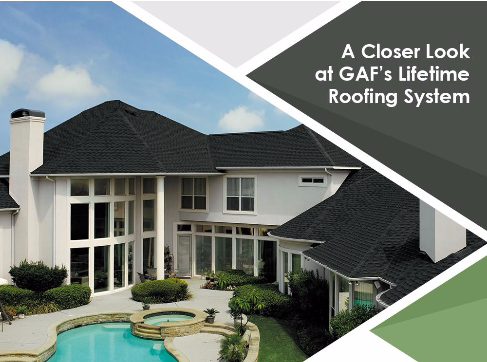 A Comprehensive Roofing System
GAF's Lifetime Roofing System can provide you with reliable protection, improved comfort and lasting beauty, making it a worthwhile investment. More than just the shingles, it consists of an excellent supporting cast working hard behind the scenes. These include:
Lifetime Shingles. GAF offers an extensive line of asphalt shingles to suit your home's unique requirements. They are designed with Advanced Protection® Technology for exceptional performance and come in an array of colors, sizes and profiles to match your home's architectural style.
Exhaust Vent. Proper ventilation is key to maintaining a healthy roofing system. We install GAF's Cobra® Attic Ventilation to eliminate hot, moist air that can cause premature wear on the system.
Roof Deck Protection. This acts as a secondary layer of protection against wind-driven rain. It also allows your roof to breathe out moisture.
Starter Strip Shingles. Not only do these pre-cut shingles expedite the installation process, they also minimize the risk of blow-offs.

Leak Barriers. These safeguard the leak-prone areas of the roof, including the valleys and eaves .
Ridge Cap Shingles. These shingles complete the look of your new roof. They also shield the hips and ridges against water infiltration.
Note that before we install the Lifetime Roofing System, we have to tear off your old roof. This allows us to examine your roof deck and address underlying problems. This is our guarantee that your new roof will deliver peak performance for years to come.
Strong Warranties
Only Master Elite contractors like Homecraft Inc. can back your new roof with GAF's strongest: the Golden Pledge® warranty. This offers 50-year coverage on material defects and 25 years on workmanship errors. In case your roof has sustained problems, GAF will cover the necessary roof repair or replacement in line with the terms of the warranty.
Look no further than Homecraft Inc. for stellar roofing solutions. Call us at (877) 494-0377 to request an estimate. We serve Newark, Bear, Middletown and adjacent areas in DE.