It pays to do your research and find out about the siding material offered by your siding contractor. After all, you'll be living with your decision years down the line. So before you choose which siding product to install, consider these factors that affect its long-term performance.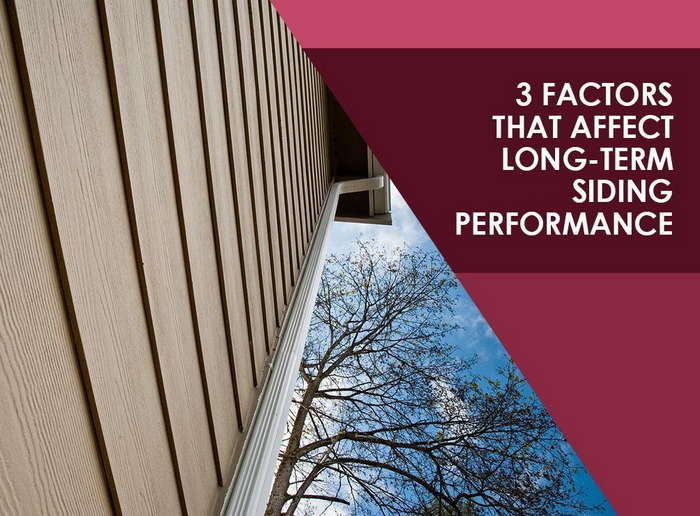 The Local Climate
There are several siding options, but they are not equal performance-wise, under climatic extremes. Untreated wood shakes, for example, are susceptible to moisture absorption, which leads to rot. Meanwhile, traditional vinyl siding is susceptible to extreme heat, with the tendency to sag and warp under constant exposure to the sun.
Modern vinyl siding, like those manufactured by Mastic, have features designed to counter this vulnerability. As a result, it performs much better under extreme climates.
Installation Quality
Even the best materials are worthless if improperly installed, which makes the contractor's installation skills as important as the siding itself. Installation errors can lead to unexpected and even unpredictable problems that won't be apparent until much later.
Protect yourself from such problems by checking if the warranty coverage includes workmanship. While typically shorter than material warranties, workmanship warranties usually cover the first two years, enough time for problems caused by installation errors to manifest. Alternatively, look for manufacturer-certified siding contractors. These contractors have received factory training and certification and are less likely to commit these kinds of errors.
At Homecraft Inc., we have a three-year workmanship guarantee on all our siding installations. We are certified by both Mastic and ProVia to install their siding products.
Maintenance
Siding may not need as much maintenance as roofing or gutters, but it doesn't mean you can just forget about it. Vinyl siding will still require some minor maintenance to look out for potential problems like impact damage or small animals nesting in tight corners. Regular cleaning and maintenance also keep the siding looking like new, a sure boost in curb appeal.
Homecraft Inc. serves homeowners in and around Hockessin and Wilmington, DE. To know more about our vinyl siding products, call us today at (302) 798-0302 or fill out our contact form to schedule a free in-home consultation and estimate.