Soggy carpeting, water-streaked walls and ceiling, flooded rooms—you don't want to experience any of these inside your home. When planning to do a bit of home improvement this season, be sure to focus on projects that can keep your home dry and damage-free.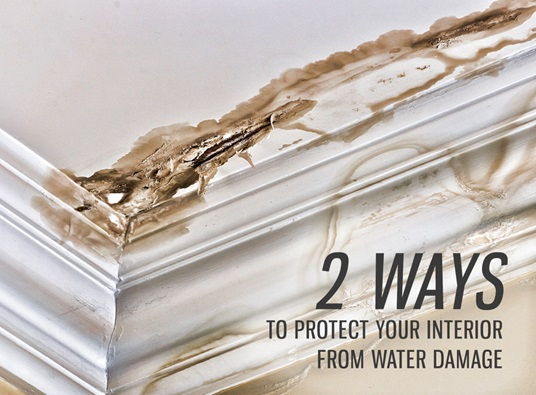 Your trusted contractor for quality gutters in Wilmington, DE, Homecraft® shares two ways you can avoid extensive water damage in your home.
1. Gutter Installation — While they support your roof system, your gutters actually play an essential role in protecting your home against the harshest rainstorms. They make this possible by directing rainwater away from your foundation and exterior walls, which help keep your home's structure sturdy and intact. Additionally, gutters can prevent moisture and water from seeping within your walls. This stops the growth of mold and mildew in their tracks while saving you from their accompanying health risks.
When looking for a quality gutter system to replace your old and failing one, turn to Homecraft® Inc.. With our aluminum seamless gutters in Bear, DE, excessive water damage will be the least of your worries. We only carry the Mastic brand for this service. These gutters have no seams, eliminating the potential for leaks and failure, and do not require painting. Our Mastic seamless gutters also come in a variety of durable colors that have a long-lasting finish.
2. Gutter Protection — You can augment your gutter system's performance by keeping it healthy and clog-free. Installing an excellent gutter protection can help with this. It prevents leaves and other debris from setting inside your gutters, while allowing rainwater to flow through the system smoothly. There's no risk of trapped water overflowing, or gutters pulling away from your home because of the weight of accumulated debris.
Homecraft offers excellent gutter protection in Hockessin, DE. With our Mastic Leaf Relief, we'll make sure your gutters remain clean and clear, saving you from regular cleaning and maintenance. Unlike other options, it fits all roof slopes and never requires gutter repositioning. It also blends perfectly with your home's roof and gutters due to its sleek design.
Keep your home's interior free from water damage by turning to Homecraft and our quality gutter services. Fill out our form today for a free estimate.