Not all gutters are designed to last and stay function for years. Some lack essential features to remain intact because of long-term exposure to the elements and clogging.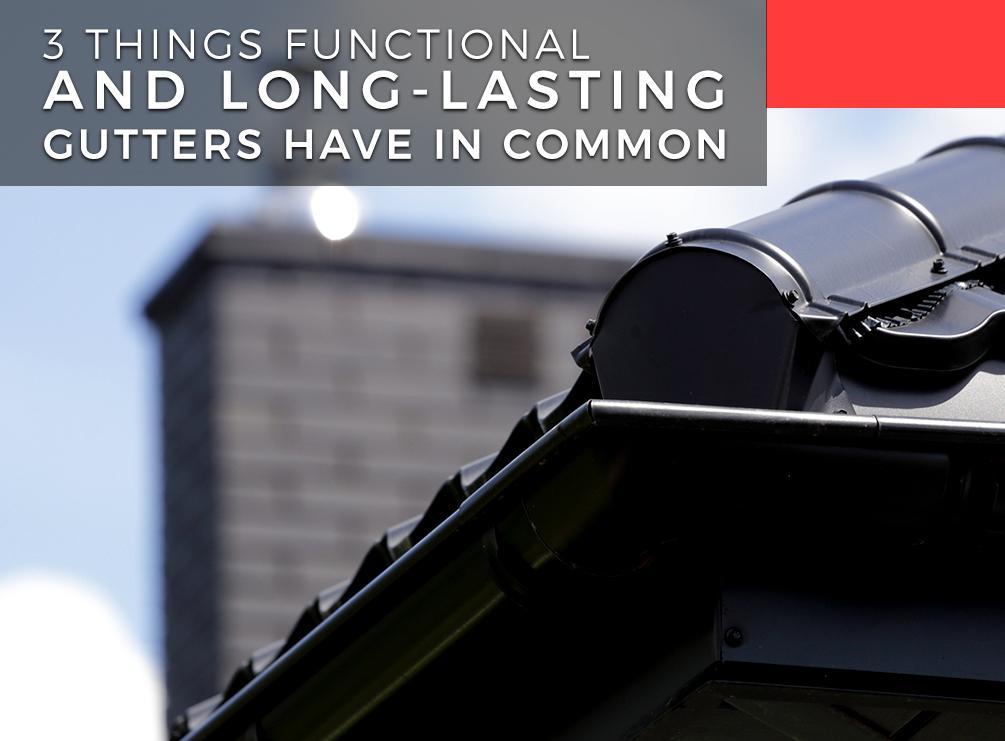 So, if you're planning to install gutters or replace your existing ones, make sure they are:
Seamless
There was a time when all gutter systems are of a sectional style. They comprise individual bars of metal pieced together and installed around the roof edge. No matter how well they're connected, though, their sealants would wear away at some point, creating gaps that lead to leaks.
Then seamless gutters were invented. Unlike their sectional counterparts, they're custom-built based on the home's unique specifications. Instead of combining small sections, seamless gutter systems are composed of straight shots of metal that run over the entire length of the roof. With virtually no seams, you could keep seal failure and water leakage to a minimum.
Rust-Resistant
Gutters and downspouts come in different materials, but aluminum is perhaps the best. Unlike galvanized steel, aluminum is far lighter and doesn't rust without containing iron. Reinforced by hidden hangers with screws, a premium grade of aluminum gutter system can bear heavy loads of rain, even snow.
Maintenance-Free
A gutter protection system is generally optional, but its priceless value can't be ignored. Innovative products, like Mastic Leaf Relief, boast winning features that filter out debris and keep gutters and downspouts clog-free all year round.
Moreover, pay attention to the product's finish. Most gutter systems require periodic repainting jobs because they're easily susceptible to UV radiation. Apart from checking the product's color options, make sure it comes with a stellar finish warranty; this way, you can ensure long-lasting, beautiful curb appeal and save yourself from costly maintenance over the long haul.
At Homecraft, we offer the best gutter solutions in Wilmington, Bear, or Hockessin, DE. To learn more about our products and services, call us now at (302) 798-0302 for your FREE, in-home estimate.