The tables have turned; it is now the homeowners' turn to rate the Better Business Bureau (BBB). Their verdict: BBB is doing a good job in its advocacy of promoting ethical business behaviors and practices in the United States and Canada. The level of trust being accorded the non-profit institution is relatively high that people pull up information from its website before making a decision about which contractor or builder to hire.
According to a Build Zoom survey, BBB is considered one of the top consumer methods by those planning to renovate roofing in Delaware or other parts of their residential properties. Remodeling projects may involve sprucing up any part of the home. The poll's close to 600 respondents were asked to rank eight methods—in terms of trustworthiness and authority—in determining which ventures stand out for scrupulous business ways within their own industries.
Meantime, Angie's list ranked second in the survey, while Service Magic and Craigslist were in the seventh and eighth spots, respectively. Other sites with recommendations that consumers find valuable are Google, Yelp, and the Yellow Pages. However, there are no consumer services online that can truly beat word-of-mouth for individuals on the lookout for remodeling contractors.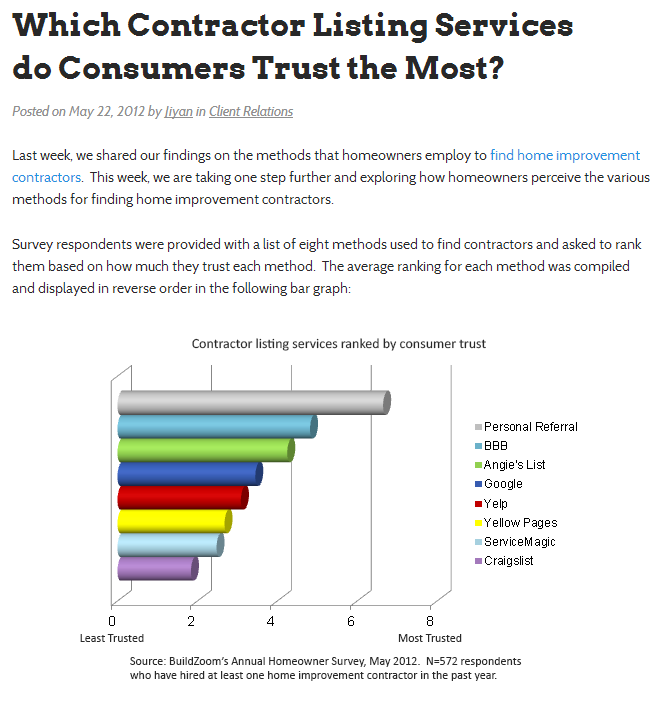 Referrals remain as the primary method used by house owners to get names of prospective contractors. Since it is an issue of trust, personal networks are tapped. Inputs are taken from family members, friends, colleagues, and people who have actually experienced doing business with a builder.
Still, this does not discount the role of consumer services like BBB. As one of its many functions, BBB entertains complaints against shady companies and offers alternative dispute resolution for such. As they become available, different documents containing pertinent information are disseminated to consumers (usually online) to help them make informed choices about products and services they are looking to purchase or contract.
A primary aim of BBB is to establish a level marketplace for both consumers and businesses through accreditation and certification. This system virtually rewards fair players and constantly reminds those with questionable practices to get on the straight and narrow. BBB gives various firms rankings dependent on how they treat customers and workers, and conduct business as a whole.
This is why trustworthy Wilmington, DE roofing companies make it a point to get a BBB accreditation. Homecraft Inc., for example, finds that a certification from this organization is a natural lure for clients who do not want to be victimized by rogue firms. This is especially true in an industry like roofing where state regulation and licensing are usually not obligatory, and self-regulation is the name of the game.