The Bowne House in Queens, NY, is undergoing a major restoration project. The Queens Tribune reported that the work on the 17th-century house started on April 1, 2013 and is estimated to finish in June 2014 at a cost of $3.2 million. The renovations will involve installing new shutters and doors along with steel columns, fixing the drainage system, restoring the old sidings, and putting extra reinforcement on the ground floor.
A home improvement company that lands a contract for restoring a historic house may be sitting on a potentially good project to add to its resume. Newark, Delaware itself has a lot of them, having been founded by Scottish and Irish-Welsh settlers in the 1690s, and has an education circuit that eventually produced some of the Declaration of Independence's architects. Although some historical houses within the 12-Mile Circle may not be as old as the Bowne House, siding contractors in Newark, DE like Homecraft Inc. can still come in and make a difference.
Many siding contractors will have a raft of choices available, but some will often concentrate on only cedar shake and vinyl for their offerings. In the context of historical restorations, like what is currently in progress at The Bowne House, vinyl sidings will be used according to National Park Service guidelines. The provisions include allowing the use of vinyl sidings if the originals are irreparable or the substitute materials can accurately reproduce the look and feel of the original material.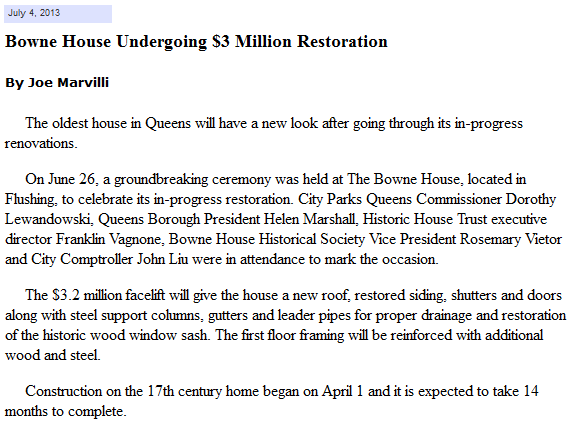 The Bowne House project is also in need of a new roof. Although officials have not elaborated on the roof's actual conditions, Wilmington, DE siding contractors, such as Homecraft Inc., can possess the training and skill for roof repair or replacement. If you have a historical house in your name but have seen the roof plagued with problems in many places, the contractor can come in and inspect the entire surface for you, with the proper data to be accounted for in an insurance claim.
Gutters are also a problem in historical houses that may have all but seen better days and the Bowne House is no exception. The Tribune reported that the work involves putting up gutter and leader pipes for proper drainage. A home improvement contractor can set up seamless aluminum gutters that have screens to get leaves out of the troughs; this also has the added benefit of sporting an appearance that fits flush with the facade.
The bevy of work to be done at the Bowne House – or any other historical home for that matter – is usually left to contractors who have the experience in home renovation to make it happen. It is important that the contractor has a wide variety of skills and the professionalism to ensure that the client's confidence does not waver.