In a May 30 article by Bill Bregar in plasticsnews.com, a market report on the window sector shows the continued improvement in home rebuilding for 2012, and it is believed that the growth will continue until 2015. In fact, it is expected that the market for residential windows will grow 15 percent for this year.
According to the report, there is a 5.8 percent growth in residential prime windows in 2012, wherein vinyl windows had a total of 27.5 million units sold, or 69 percent of market share. Moreover, the report states that vinyl windows should continue to grow, by double digits in 2013 and 2014, and 9 percent in 2015 that would enable it to hit 39.1 million units by 2015.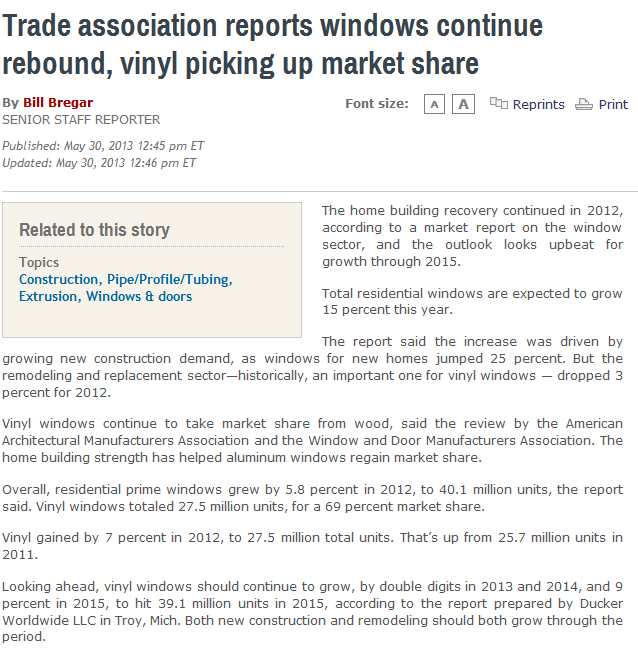 After you've pondered on the numbers and facts enumerated above, there could be several questions running in your mind. For example, vinyl windows are a good choice for windows in West Chester, PA, but what exactly are the advantages of upgrading your old windows to vinyl?
Vinyl replacement windows in Wilmington, DE or West Chester, PA offer a lot of benefits to homeowners, because they are durable, energy-efficient, easy to install, and doesn't require that much maintenance. When it comes to vinyl windows, you'll also have a wide range of styles and options to choose from that are sure to make your home more eye-catching and even grant you significant savings.
Another advantage of replacing your old windows with vinyl is that they are the best in insulating your home, keeping the heat in during winter and protecting your home from the outside heat during summer. A result of having good insulation is that you get to save on energy costs on heaters and air conditioners. Though you'll have to spend money when replacing your windows with vinyl, the amount that you'll save in your energy bills will be able to eventually pay for it.
When planning to replace your windows, hire only trusted window contractors like those from Homecraft® Inc. They will be able to help you in choosing the right type of vinyl window for your home and will custom fit it to provide you with absolute beauty and excellent insulation.