Homeowners who want only the best for their investment will always choose a contractor with an outstanding reputation. How would you know if you are hiring a reputable one? Hiring a roofing contractor with GAF Master Elite™ Certification is one such way.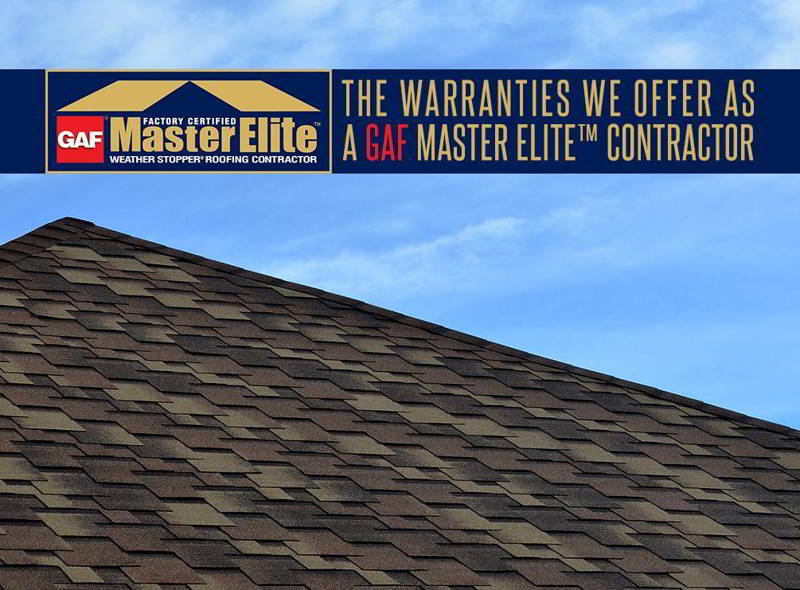 In this post, Homecraft Inc. explains what being a GAF Master Elite contractor means for our customers.
The Best of the Best
Being a certified GAF Master Elite contractor is a kind of distinction given to only a few contractors. This is mainly because GAF, a leading manufacturer of roofing materials in the country, only choose those who have passed their testing and completed rigorous training on roof installation and repair, based on industry standards. When hiring a GAF Master Elite contractor, like us, you will be entitled to not only to high-quality materials and workmanship, but also the best warranties in the industry.
Typically, there are two types of warranties: materials and workmanship. This is the only way roofers can stand by their service. As a wise homeowner, make sure you have both of these types of warranties in writing.
In some cases, the contractor offers a single warranty that covers the materials and workmanship. At Homecraft® Inc., we offer both of these warranties to every roofing service performed using GAF roofing.
Our Warranty Options
GAF warranties offered by Homecraft® Inc. include Base, Better, and Best. Base warranty includes a 10-year coverage period for material defects and maximum wind coverage up to 130 mph. Better warranty offers more assurance, as it includes 50-year coverage period for material defects and 2-year coverage for workmanship. If you need more coverage, you may opt for Best or the Golden Pledge® Ltd. warranty that covers both materials and workmanship with longer coverage.
Our Best or the Golden Pledge® Ltd. Warranty includes a 50-year coverage for material defects and 25-year coverage for workmanship. It also includes tear-off costs and disposal costs for both material and workmanship error. Upon installation of the materials for roof repair or replacement, GAF independent contractors will also perform 40-point factory inspection to ensure proper installation.
All of these warranties are transferable with no transfer fees and covered by Good Housekeeping protection. These warranties also come with the Smart Choice® Protection Period that covers the materials against defects during the critical early years of a new roof. In the event that the homeowner experiences defects during the early years, GAF will provide 100% of the replacement materials at reasonable cost to install them.
For a free in-home estimate for roofing services, you can call us at (302) 798-0302. Our services are available to all residents of Newark, Middletown, and Bear, DE.