Energy-efficient replacement windows are great for their long-term benefits, especially with today's rising energy costs. If you've been looking around showrooms, you may have noticed the ENERGY STAR® labels affixed to replacement window units. Ever wondered what these labels are for, and how they can help you find energy-efficient replacement windows? Here is a short run-down.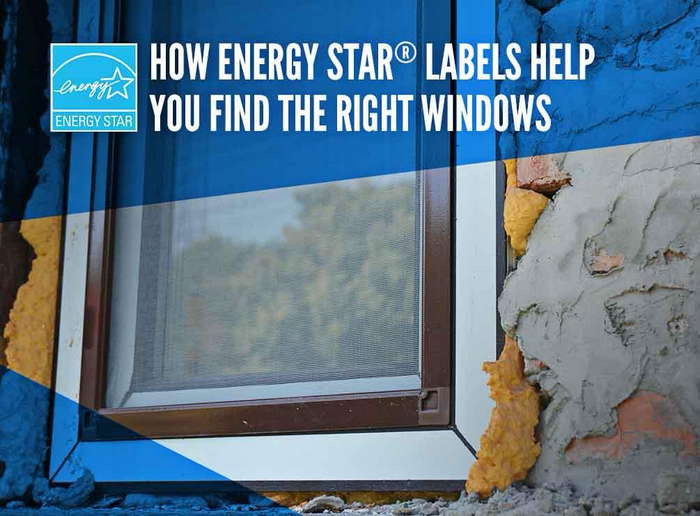 Choosing replacement windows with ENERGY STAR® certification offers so many benefits. In today's blog, we discuss how it can help you.
What is ENERGY STAR?
ENERGY STAR was created by the U.S. Environmental Protection Agency (EPA) and the Department of Energy as a voluntary labeling program for energy-efficient products. It was initially created for computers, printers and similar products, but it has since expanded to include anything that uses energy or affects energy consumption. This includes heating and air conditioning units, dishwashers and even doors and replacement windows.
Energy-Efficient Replacement Windows
Replacement windows obviously do not require energy, but they do affect your energy consumption. Windows are part of your home's energy envelope, which also includes walls, entry doors and the attic. This energy envelope should, ideally, have sufficient insulation to prevent heat transfer – which translates to heat loss during cold days and heat gain during hot days. This leads to increased indoor heating and cooling requirements that lead to increased energy consumption.
Traditional replacement windows have single-panel glass that allows heat transfer. Today's wood and vinyl windows, like the ones we offer, feature dual-panel glass that eliminates contact between interior and exterior surfaces to minimize conduction, especially when combined with quality insulated frames.
ENERGY STAR Certification
While you're not required to memorize things like U-Factor and SHGC, it doesn't mean you can't have the right replacement windows for your home. And this is where the ENERGY STAR certification comes in: it tells you that a replacement window is energy-efficient before you even buy it. And if your home has specific energy requirements, you can always check the accompanying energy ratings to fine-tune your selection.
If you would like to learn more about our ENERGY STAR-certified vinyl and wood window installation options, call Homecraft Inc. today at (302) 798-0302. You may also fill out our contact form to schedule your free in-home consultation. We serve many areas in and near Bear and Wilmington, DE.