Get a Better Home and Save $300 off an Entry Door with Homecraft® Inc.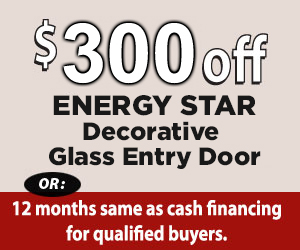 Summer is the perfect time to make improvements and repairs to your home, especially exterior renovations like entry doors. Homecraft® Inc. is sweetening the deal with an incredible combination of savings and financing to make a decorative glass entry door more affordable than ever!
For a limited time only you can take $300 OFF a new rEnergy Star Decorative Glass Entry Door.* That's huge savings on home improvements that will increase the comfort, value and energy efficiency of your home.
We're Making Financing Easier, Too!
Along with $300 off your new door, Homecraft® Inc. has arranged for a fantastic financing program that features:
No money down!
No payments for a full year!
No interest for 12 months!
You can start enjoying the benefits of your new Homecraft® Inc. roof or siding right away, and pay nothing for a full year!**
What's keeping you from making your home more comfortable and attractive?
Lock In Your Savings Today!
Call Homecraft® Inc., today at 877-494-0377 to lock in your $1,000 savings on a new roof or siding.
**For qualified buyers.