We are Tops for Home Improvement in Honey Brook PA
Honey Brook, a quaint borough in Chester County, contains only 2,000 people, but is a community steeped in history. Honey Brook is home to the oldest of its kind United Methodist Church and the longest-running business, W.L. White's & Sons. With so much history here, you need help preserving the community and we can help you achieve that as professionals in roofing, siding, replacement windows, doors, and gutters.Homecraft® Inc. is proud to be Honey Brook's top provider of quality roofing, siding, replacement windows and gutters. Everything you need for home improvement, we can do it, placing a high emphasis on craftsmanship, materials and products built to last. We make sure you get one-on-one attention built on three decades of workmanship, making Homecraft® Inc. the #1 reputable company among Honey Brook PA homeowners.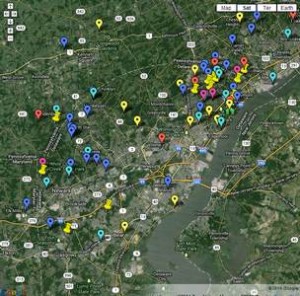 Window Replacement in Honey Brook PA
Opt for our replacement windows thanks to the widest selection and best quality possible. You receive two choices with our windows: our own Homecraft® Inc. vinyl replacement windows or Andersen® wood replacement windows. Whichever you choose, you will enjoy excellent performance, guaranteed energy savings, and reliable service that lasts.
If you require a weather-resistant storm door to protect your home, we are here to help. If you need to replace your old garage door with a new state of the art one, we are here for that too. There's no better way to welcome your family and visitors than with a sleek new front door. Rely on us for the knowledge and skills to design a brand new entryway for you with doors that are beautiful and durable.
Boasting all kinds of siding for you to choose from, from cedar shake to vinyl siding, our top priority is high-quality siding. It depends on the type of house you have, but we can provide you with advice on which colors, textures and styles you should choose. Homecraft® Inc. is all about choice in Honey Brook PA.
As a GAF Master Elite® roofing contractor, we guarantee the highest quality roofing systems thanks to the industry-leading "Golden Pledge™" warranty protection. Your roof should shield your house and your family from all types of weather, which is why you need a strong, dependable Avondale PA roofing system that lasts. Do what the rest of your neighbors are doing: trust Homecraft® Inc. for roof repairs and new roofing.
Here at Homecraft® Inc., we ensure your gutter system works in tandem with your roof to provide efficient water run-off that won't cause clogging, standing water and leaks, which is what you get when you invest your money in sub-par gutters. Make the right choice!
Home Improvement in Honey Brook PA
Let us make your ideas and designs come to life with investments that last for many years. We are dedicated to 100 percent customer satisfaction, due to our skilled and experienced team of professionals who are here to treat you to the highest quality roof possible on your home. We offer replacement parts, damage repair, or additions.
Find out more about Honey Brook PA
FREE Estimates on Honey Brook PA Home Improvement, Windows, Doors, Siding or Roofing.
Call Homecraft® Inc., today at 1-877-494-0377 to schedule a FREE in-home consultation and estimate for your Honey Brook PA home improvement project, roofing, siding, replacement windows, doors, or gutters.
Areas we serve