A code-compliant roof is designed to withstand the force of high winds and bear the weight of several inches of wet snow without collapsing. It owes its strength to its framing. Construction practices have evolved over time, but conventionally framed roofs are still in fashion.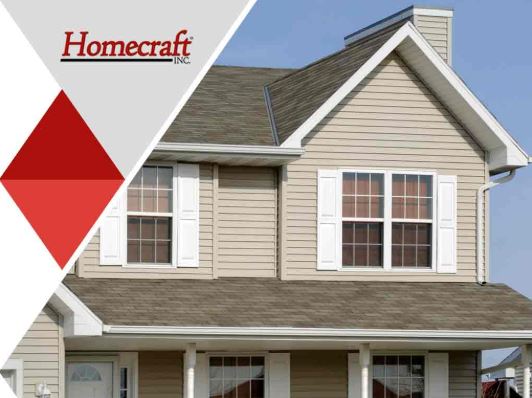 In today's post, Homecraft® wants to talk about some of the most common framing members:
Common Rafters
Any experienced roofing and siding contractor refer to the rafters that stretch from exterior walls to the ridge as "common rafters". Generally, the ends meeting on the opposite sides of the ridge must align. In some cases, though, some pairs don't directly face each other to make room for other components, like vents. Nevertheless, slight misalignment doesn't constitute poor-quality framing, and shouldn't be considered a structural liability.
Like common rafters, hip and valley rafters are connected to the exterior walls, except they're oriented diagonally to the ridge.
Hip and Valley Jacks
When the rafters rest on the exterior walls at the bottom and connect to the hip at the top, they're called "hip jacks". But when the rafters connect the valley and the ridge, they are called "valley jacks" instead.
Conventional Ridges
This piece provides an easy means for connecting and nailing rafters at the peak. In homes with this type of ridge, any roofing and siding specialist would attest that rafters are responsible for carrying the entire roof weight. They serve as a key element of the "load path", which is the route used to transmit the weight through framing members to the ground.
Ceiling Joists
When there's a flat ceiling and an attic space, these pieces tie opposing rafters at their lower ends. Otherwise known as "rafter ties", they keep the weight of the roof from spreading the top of the walls and making the ridge droop.
Collar Ties
These pieces fasten every other opposite rafter except they're nailed to the upper third of the roof. While "collar ties" are not usually necessary, structural engineers use them to help prevent wind uplift.
Strongbacks and Purlin Braces
To fix sagging rafters, any vinyl siding and asphalt shingle roofing expert would say that purlin systems are likely needed for stabilization. "Strongbacks" are installed at the underside of rafters with diagonal supports called "purlin braces".
Schedule your in-home consultation with Homecraft to learn more about roof anatomy. Call us at (302) 798-0302 to discuss your roofing needs, and get a FREE estimate in Wilmington, Hockessin or any neighboring DE community