HomeCraft® is the top siding contractor in our local area because we install high-quality products that can improve your home's appearance, comfort, and energy efficiency. One of the products we offer is CedarMAX™ insulated vinyl siding from ProVia®. This product provides superior thermal protection while improving your home's curb appeal. Here are its features and benefits: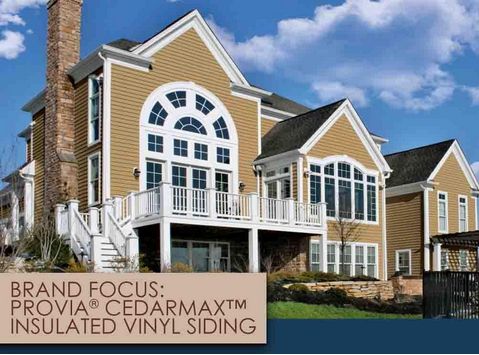 Improved Energy Efficiency
According to Consumer Reports, CedarMAX insulated vinyl siding is the number one recommended siding on the market. This is because it can greatly improve your home's energy efficiency and appearance. It features a strong, rigid foam backing that can resist heat flow. This siding improves energy efficiency by blanketing your home and providing continuous insulation. It covers your home's wall studs and prevents thermal bridging from allowing energy to escape your home.
Increased Curb Appeal
ProVia's CedarMAX insulated vinyl siding is also beautiful. Its rigid foam backing bridges the subtle bows and dips that are present on typical walls. This leads to longer, straighter panels. It also comes in a variety of colors including cream, sandpiper, pewter, chateau, harvest wheat, mountain berry, sea slate, and sage. It also comes in single, double, triple, and board and batten profiles. During our initial consultation, we will help you choose the best siding colors for your home's style.
Better Weather Resistance
CedarMAX insulated vinyl siding rigid foam backing also improves its impact resistance. It provides five times greater impact resistance than typical hollow siding. It also features the finest high-grade materials, Tri-Pigment Reflective Technology, Color-Keeper™ Anti-Fade Protection, and a Weather Barrier Shield with SPX-2000 UV Blocker. This siding can protect your home from bad weather and requires minimal maintenance to stay beautiful.
Our insulated vinyl siding can significantly improve your home's energy efficiency and comfort and protect your home from any kind of weather. It comes in a wide range of colors and designs, allowing it to complement any architectural style. HomeCraft has over three decades of experience in the home improvement industry, allowing us to provide superior service. We serve many areas in DE, including Hockessin and Wilmington. Call us at (302) 798-0302 to learn more about our insulated vinyl siding. You can also schedule a free in-home consultation.