Aeris™ and Endure™ are two of ProVia's hottest lines of windows today. They may have stark distinctions in design, but they share all the winning qualities homeowners love about ProVia.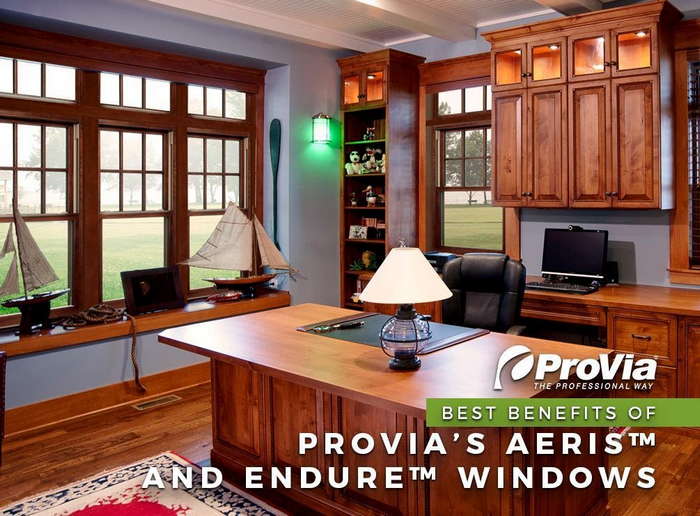 The Aeris Window Series is an innovative fusion of stainable wood interior and virtually maintenance-free vinyl exterior. On the other hand, Endure vinyl windows feature optimum levels of technology for peak performance through the years.
In Homecraft's book, these are the best benefits ProVia's Aeris and Endure bring to the table:
Year-Round Comfort
Both models are ENERGY STAR®-certified. In other words, they meet our local climate's energy efficiency criteria and provide you real savings every month. They have the amazing ability to reflect the unwanted heat from the sun and thermally insulate rooms at high levels. From summer to winter, outfitting your home with either Aeris or Endure lets you achieve your desired indoor climate with less gas or electricity.
They're available in an array of insulated glass options with argon or krypton gas fill. Their Super Spacer contains no conductive metals for maximum thermal efficiency.
Increased Condensation Resistance
The ComfortTech™ Warm Edge Glazing is a major contributor to the remarkable energy performance of Aeris and Endure replacement windows. Among many things, this technology keeps the entire glass surface of the unit warm enough to inhibit condensation and help reduce interior water damage.
Noticeable Quiet
The all-foam formula of the design of Aeris and Endure units deliver excellent sound-dampening properties. Their flexible foam makes Super Spacer and vapor barrier's exceptional thermoset foam matrix block outdoor noise effectively, even in industrial environments.
Carefree Maintenance
ProVia's Aeris and Endure windows deliver true maintenance freedom. Their vinyl frame and sash don't chip, crack, peel, pit, or blister with constant exposure to detrimental elements. Their double-hung units have a Compound Tension™ balance system and unique DualTech™ hardware, while their slider windows come with friction-resistant rollers to make cleaning effortless.
Like choosing Andersen for a wood window installation, selecting ProVia for a vinyl window upgrade gives you access to a world of customization options. You will enjoy the power and freedom to tailor your replacement windows to your aesthetic needs.
Let's get your window replacement project in Bear or Wilmington, DE, rolling. Call Homecraft now at (302) 798-0302 to schedule your FREE, in-home consultation and estimate at your most convenient date and time.