If it's time to install new windows in your home, you have two options. One is to replace your old windows with exactly the same kind. The other is to choose one that truly reflects your style and meets your needs. Most homeowners tend to select windows based on how well they can increase their home's curb appeal, ignoring other potential benefits of window replacement.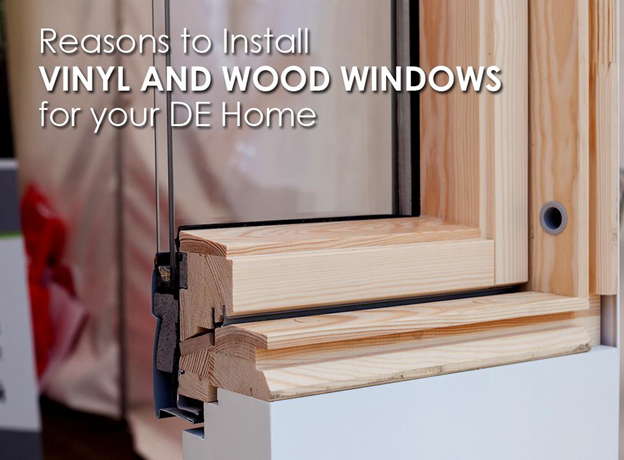 Why focus on curb appeal, however, when you can choose windows that help boost your home's performance and energy efficiency, without compromising the aesthetics? States like Delaware experience seasonal bouts of severe weather, so you'll want to protect your home from heavy snow and rainfall. Our vinyl and wood replacement windows in Wilmington, DE, can help you do just that.
Vinyl Windows: Thermal Performance
If your home becomes too cold during winter and too warm during summer, consider upgrading to Homecraft® vinyl windows. Our options undergo our advanced vinyl frame fabrication process, making them stronger than conventional welded windows. Since they are made of top-quality materials, they offer superior thermal performance to keep your spaces warm during winter and cool during summer. You can save up to 30% on your energy costs by investing in these windows.
Wood Windows: Lasting Beauty and Maximum Durability
Wood windows offer extreme beauty and durability unmatched by other materials. At Homecraft, we offer Andersen® wood windows, the leading window brand in the country. These windows come with a solid wood core and an exclusive patented weatherproofing system that make them resistant to anything that nature throws at them. When you choose us for your wood window installation in Bear, DE, you can rest easy knowing that we'll install them as efficiently as possible.
In addition to these benefits, our Andersen wood windows come with some of the strongest warranties in the industry. With a 20-Year Limited Warranty for glass and a 10-Year Limited Warranty for other components, you can ensure great savings for your home's upkeep in the long run.
Turn to Homecraft today for more information about our wood and vinyl windows in Wilmington, DE. We have over 30 years in the home improvement industry, making us your top choice for your upgrade. Call us at (302) 798-0302 or complete our form to get a FREE consultation. We'll be ready to assist you.